Mondial Movers was responsible for the relocation of several unique objects (including tomb pillars) from the Dutch Thermenmuseum to a climate controlled storage depot. Because of their sizes and weights (sometimes up to 600 kilograms), it was a challenge to remove the objects from the building. "Although it looks solid from the outside, the material is fragile and you have to be very careful with it," says curator Karen Jeneson.
Located in the city of Heerlen, the Thermenmuseum tells the extraordinary history of the Romans in southern Limburg. Visitors can see the impressive remains of a Roman bathhouse, also known as 'thermen' in Dutch. It is the best preserved Roman (public) bath in the Netherlands. The museum also has a variety of objects from Coriovallum: the Roman city that lies below Heerlen.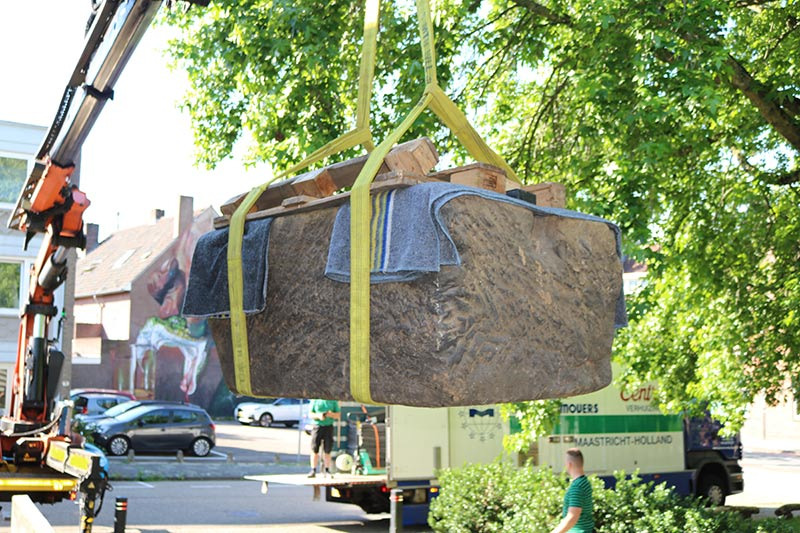 The museum is now fifty years old and after decades of intensive use, the building needs to be renovated. The plan is to start in 2023. "In order to properly preserve the bathhouse and the collection, we need a building that is futureproof (for example with a modern climate control system).
Prior to the renovation the staff of the museum decided to move already several items to a storage facility, so that they can be restored. When the museum opens after renovation, in 2025, all items will be in good condition.
Mondial Movers' local branch in Limburg (Mondial Centrum Removals) has a team of art handlers who were responsible for the move. The moving company faced quite a challenge, as the building is not designed for moving large objects. The team also had to be very careful, because some of the items are 2000 years old. "It's a scary moment to see these objects hanging in the air. Fortunately, everything went well."