InterS&R as a well-recognized company on the commercial move field in Spain, we have been chosen to carry out multiple interesting projects from a variety of clients coming from different areas. One of the most recent was for a world leader company of biotechnology which has move their main offices within Barcelona city downtown area. Furniture was transported, dissemble and assemble by our crew complying with timing and expectations of customer.

Finance sector, specially banks operating in Spain; request our services daily. From internal moves to reorganize space, local branches refurbishment, to moves across de country; among many other services we can offer them to cover their needs.

In 2019 a big request from a client from the automotive sector required all the efforts from our team; women power came over to reinforce the work of their male colleagues. The outcomes were great, client was delighted and wishing to repeat the experience.

Inter S&R moves newspaper El Periódico de Catalunya's offices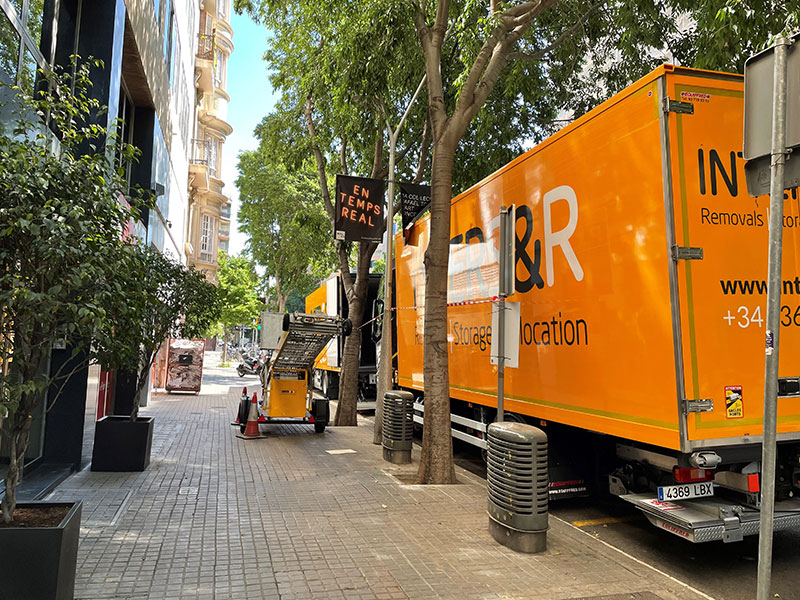 El Periódico de Catalunya
El Periódico de Catalunya is a morning daily newspaper based in Barcelona, Catalonia, Spain. Founded in 1978; it sells more than 125 000 copies per day and ranks as Spain's top 5 newspapers.
The mission
Earlier this summer Inter S&R, the OMA member in Spain, performed the corporate move of one of the biggest newspapers in Barcelona, El Periódico de Catalunya. The job was particularly challenging at all levels, from the long period of time it took, to the amount of materials, specially documentation, included, to the pressure of working with a company that is producing a product which value is based on its immediacy.
The challenges
Inter S&R needed to empty the six floor building in 2 weeks establishing three different lines of work:
Line #1 handled all the archives gathered during tens of years when digital information did not exist.
Line #2 was in charge of disasambling furniture while sorting it out between the volumes going to disposal and the ones to transfert to the new building.
Last but not least, line#3 consisted in a team coodinating the move of the computers of the hundreds of journalists. This was all the more tricky that those computers cannot ever be disconnected without an internal order to ensure that the online and on paper information is always flowing to the media corporation audience.
The outcome
Up to 90% of Inter S&R's Barcelona branch where involved in this very job for three full weeks working day and night, while we were at the same time covering the rest of our clients with no impact on their services. Over 55,000 kgs of funiture was green certified disposed and about 10,000 kgs of paper were recycled by Inter S&R's team.
Inter S&R managed the smooth move to the new building, at the customer's full satisfaction.