Mondial Movers is a national relocation organisation with 19 family businesses throughout the Netherlands. Our goal is to provide a peace of mind for all of our customers. We handle removals for private individuals, business clients, healthcare institutions and coordinate international removals. In addition, all our branches have storage facilities. In addition, we can offer support to business customers on a facility level: we have special service staff and handyman for this.
Corporate social responsibility is the starting point for all parts of our services: we are therefore proud to be a participant in the Leadership Network of MVO ( social responsible entrepreneurship) Nederland.
Relocation company Mondial Movers carries out construction logistics project for Utrecht Central Station
The Utrecht Central Station building has been thoroughly renovated and is ready for the future, with a new climate installation and open floors with flexible office spaces.
Many suppliers are involved in such a large-scale project. To prevent that every company has to park separately for loading and unloading in the busy station environment, it has been decided to store everything in the storage warehouse of Mondial VSN Verhuizingen (branch office of Mondial Movers). This varies from nails and screws, to cable reels, cabinets and ceiling plates. Mondial VSN has a large building on the outskirts of Utrecht, with sufficient storage space for this project.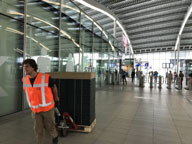 An additional advantage of working with a removal company is that the movers ensure that all items are moved carefully and safely to their destination.
Inventive
The National Railway building is located at the station. This means that not only National Railway staff enter and leave the station hall through gates, but also the movers. "The biggest challenge of this project is logistics: everyone involved must be flexible and has to come up with inventive solutions. You can only carry out such a project if you are inventive.