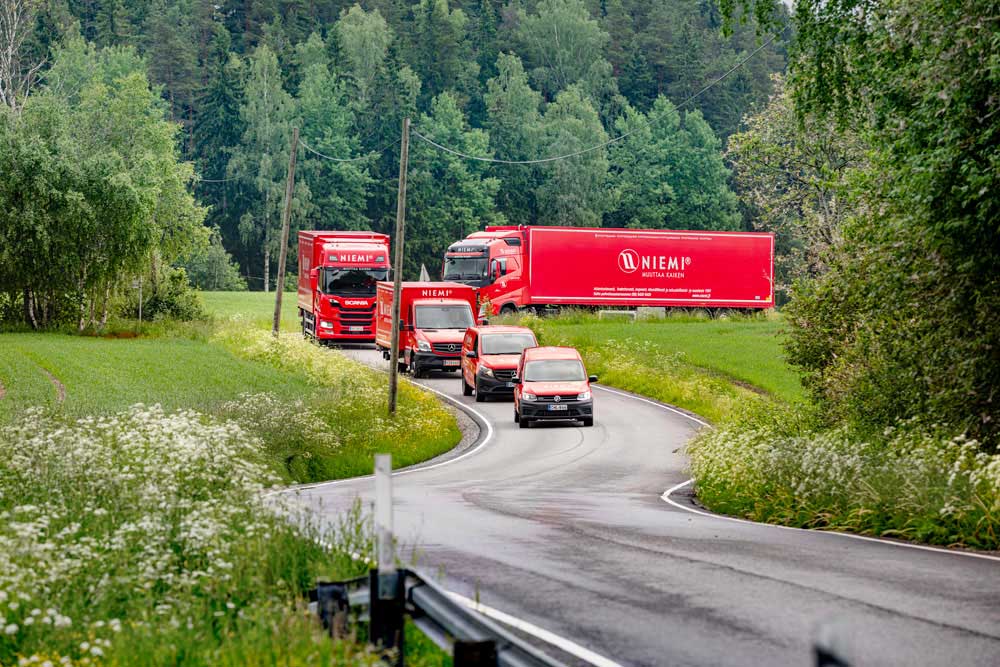 Our story began 40 years ago, when the father of the Niemi family, Kalevi Niemi bought a van and a hundred moving boxes.
At first Kalevi did small-scale moves on evenings and weekends. At the time not many would have believed, where the road leads. 
Our operations gained momentum when the four sons of the family helped their father as much as they could. In 1984 a few of them left their day jobs elsewhere and joined the company full-time. Kalevi always told to take good care of the customers and that advice we have always tried to follow. 
In the beginning it was not our aim to grow our business into a massive company, we just wanted to have enough work for us and the opportunity to run our business relatively freely. Our growth happened almost by stealth and there were more and more customers. Suddenly we noticed that for the first time we needed other employees to help with the moves.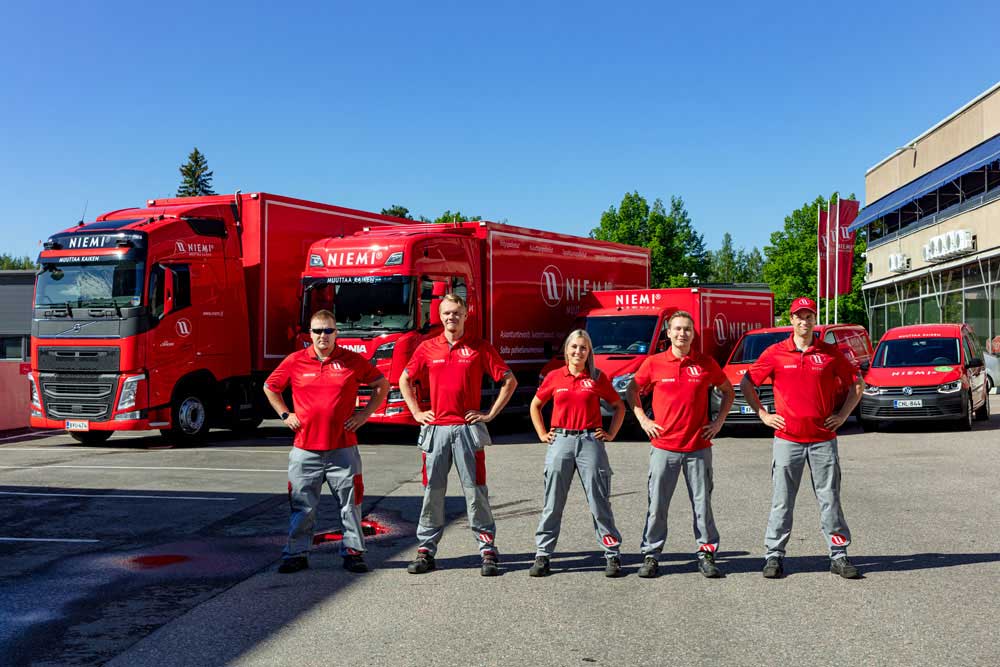 In 2001 we updated our corporate image. We changed everything: the company's logos, symbols and colours, forms, appearance of vehicles and uniforms – absolutely everything. At first the red colour seemed impossible, but nowadays it would be hard to imagine Niemi without its signature red colour. We also launched our Finnish slogan which today is known by almost everyone in Finland: Niemi® muuttaa kaiken ("Niemi® Moving It All").
We reached a significant milestone in 2003 when we opened our regional office in Tampere, the first one outside of the capital region. The Tampere region is the second largest market in Finland after the capital region. After that we have opened offices throughout Finland: Turku, Oulu, Jyväskylä, Lahti, Kuopio, and latest Vaasa. In addition to Finland, we serve our customers worldwide together with our international partner network. 
Year 2011 we changed our name to Niemi Palvelut Oy (Niemi Services Ltd). The reason for the name change was to match it with the contents of our operations as they had expanded over the decades. We had, after all, grown from a small company established in 1981 into Finland's largest moving service company and expanded our services to cover not only residential, corporate and international moves but also events, logistics and expo services.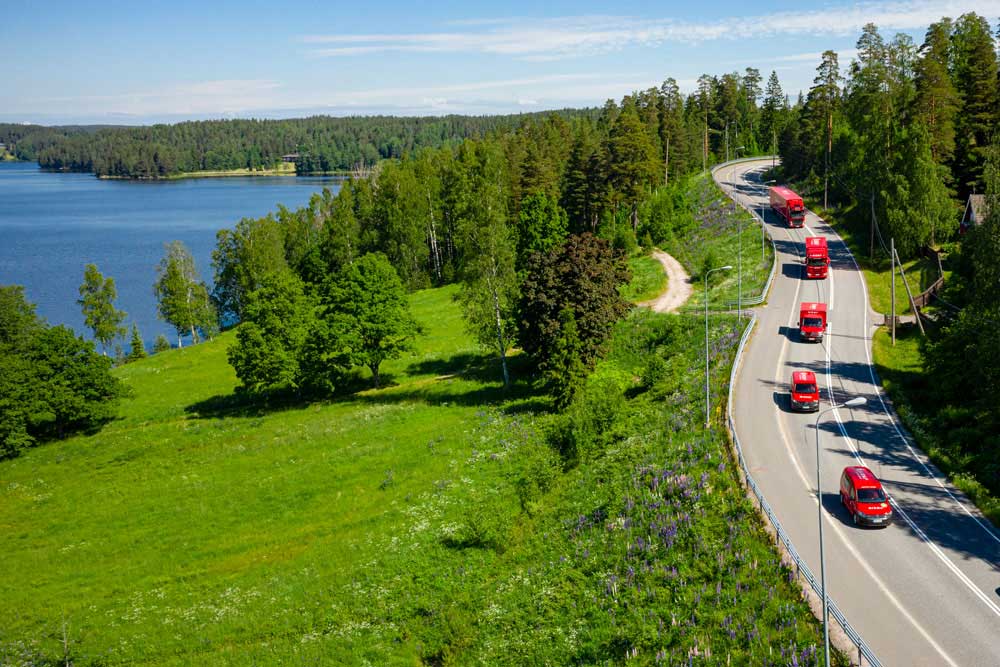 We have demonstrated our event and logistics know-how in projects carried out as part of Finland's EU Presidencies, in the Ice Hockey World Championships and the 2005 World Championships in Athletics held in Finland as well as in the Eurovision Song Contest held in Helsinki in May 2007. 
Over the years environmental protection has become more and more important. Our recycling system allows us to sort and recycle all items responsibly and appropriately. The materials to be recycled are primarily reused through our partners. Non-reusable materials are sorted and recycled, after which they are primarily used as a secondary material and secondarily as energy, thus producing no landfill waste to burden the environment. Nowadays 100% of our fleet runs on non-fossil fuel: biogas, renewable diesel, or electricity. In accordance with our responsibility principles and environmental programme, our aim is to eliminate our particulate emissions by 2030.
A lot has happened over the past four decades. A small Vantaa-based company has grown into a major business and remarkable employer in Finland. Today, there are over 1,000 Niemi employees.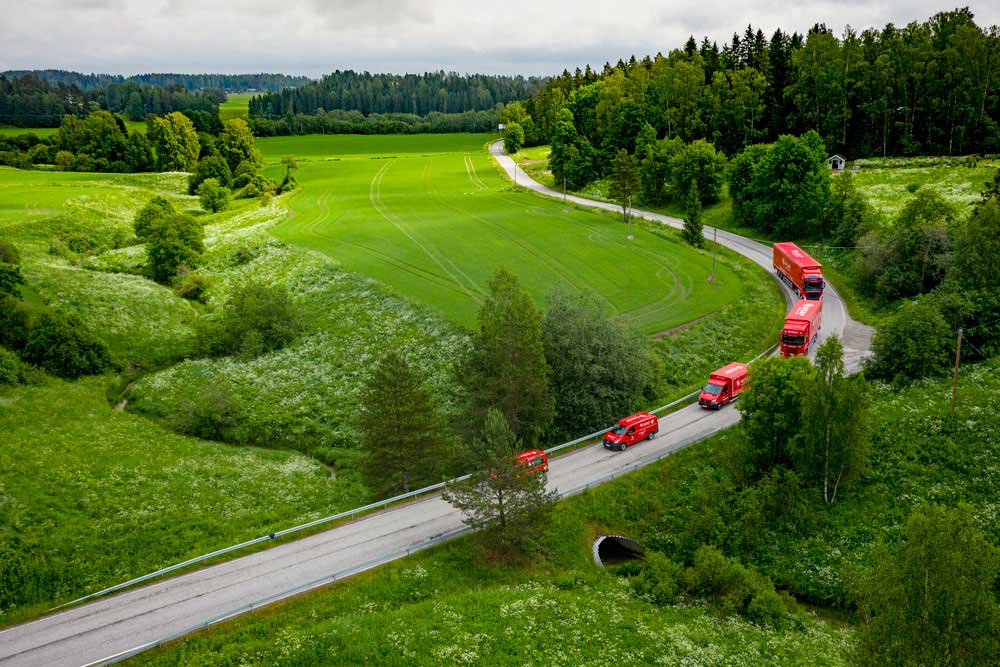 We want to thank all our customers, partners and especially each and every Niemi employee – you have made our story possible.